Fast charge automatic enumeration¶
Connect the meter to the charger, press and hold the left button on the meter's home panel. The meter will ask whether to perform a fast charge enumeration. Before the enumeration, make sure no load devices (e.g., Smartphones, tablets) remain on the meter.
Warning
During fast charge enumeration, load devices (e.g., Smartphones, tablets) can be burnt if they are connected to the meter.
Select "Yes" on the confirmation panel to enter the fast charge automatic enumeration panel, and the meter will automatically detect the available fast-charge protocols. After the detection completes, the upper right corner will prompt "Complete", supported protocols are displayed in green, and the unavailable protocols are displayed in red.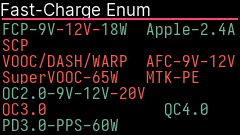 Double-click the middle key to exit this panel.