Main menu¶
Long press the middle button in any home panels to enter the main menu panel. There are multiple submenus in the menu. Scroll the key to the left and right to select a submenu item or adjust parameters, click the middle button to enter or save, and double click the middle button to exit.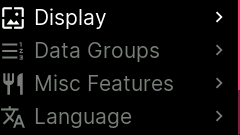 Display¶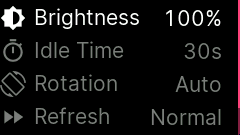 Brightness¶
Select this to adjust the screen brightness. Click the middle button to save the change.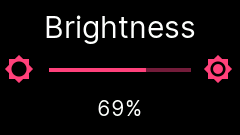 Idle Time¶
If there is no operation to the meter in a period of time, it will enter the idle mode and dim the screen. You can change the idle waiting time before the screen goes dark with this option.
Rotation¶
Change the orientation of the screen. Choose "Auto" to make the meter change the orientation automatically with the gravity sensor.
Refresh and taring¶
For details, see meter settings。
Data Groups¶
Make change to data groups,see Statistics for details。
Misc Features¶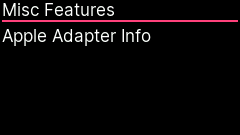 Apple Adapter Info¶
Plug-in in to an Apple PD charger, and enter this option. You should be able to see the following: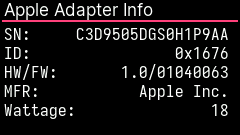 Language¶
Set the language.
Debug¶
Show the debug menu of the meter
Information¶
Show device information.